The Cultural History of Brooches, by Caitlin Kelly
Few civilians will ever get too close to Queen Elizabeth – beyond holding a stamp, bill or coin with her likeness. But those who can (as I did as a Globe and Mail reporter covering a Royal Tour) witness her at close range, also get the chance to admire her quite astonishing jewellery, like the brooch she wore to one evening event I covered --- whose central emerald was the size of a baby's fist. 
Her Majesty is well known for her love of brooches, many of which she wears on specific occasions to send a subtle message, like the diamond maple leaf for visits to Canada, the Prince Albert brooch – a massive sapphire encircled with diamonds, given to Queen Victoria for their wedding – and the stunning Coral Rose brooch, two carved roses with pave diamond leaves, which she was given in 1990 and is usually worn at French events. Her most gob-smacking pin is made of pieces from the legendary Cullinan Diamond, called Cullinan 111,1V, with one stunning stone of 94.4 carats, the other of 63.6 carats. 
Another legendary woman made good use of her brooches. For former U.S. Secretary of State Madeleine Albright: "It all began when I was at the United Nations," she told Smithsonian magazine. "It was right after the Gulf War and the United States was pressing for resolutions sanctioning Iraq. During that time I had something dreadful to say about Saddam Hussein on a daily basis, which he deserved because he had invaded Kuwait. The government-controlled Iraqi media then compared me to an "unparalleled serpent." I happened to have a snake pin, and wore it to my next meeting on Iraq. When the press asked me about it, I thought, "Well, this is fun." 
Her 2010 book "Read My Pins" revealed that her brooches are often simple fun costume pieces. "I love to go to flea markets and things like that," she told Smithsonian. "I love to go to antique shops out in the country. Some pin speaks to me, and so I have to buy it. Then we find a purpose. Mostly, they just kind of happen."
The President of The UK Supreme Court, Baroness Hale of Richmond, is also known for her whimsical and eye-catching brooches.
Before becoming decorative statement pieces, brooches were initially meant to be functional, holding a cloak or shawl together with a long pin, then called a fibula. Vikings and Visigoths wore them. In later centuries, brooches became objects of sentiment, mourning, celebration, friendship and signifying membership in various clubs or organizations. They have been made of almost any material imaginable – gold, silver, platinum, precious and semi-precious stones but also 20th century materials like Bakelite, popular in the 1920s and 30s. 
Aigrette brooches were the height of fashion from the 17th to the 20th century, feather-shaped and set with flat-cut diamonds or garnets in silver settings. They could be worn in the hair and were very detailed, often with tiny birds flying around the plume.
En tremblant (to tremble in French) was a style of a spray of flowers attached to a mechanism that allowed it to quiver when worn. These were normally set with rose-cut or old-mine cut diamonds, fashionable in the 18th and 19th century, before electricity – their trembling effect stunning by candlelight.
In recent years, brooches have become a fashion statement made by some of the most stylish men – like actor Timothee Chalamet, who added a 1955 ruby and diamond Tiffany brooch to his Prada blue nylon suit for the 2020 Academy Awards and Sir Elton John, whose lapel sported a diamond rocket at the 2020 Golden Globes. The late actor Chadwick Boseman pinned three gold and diamond Tiffany brooches to his suit at the SAG awards.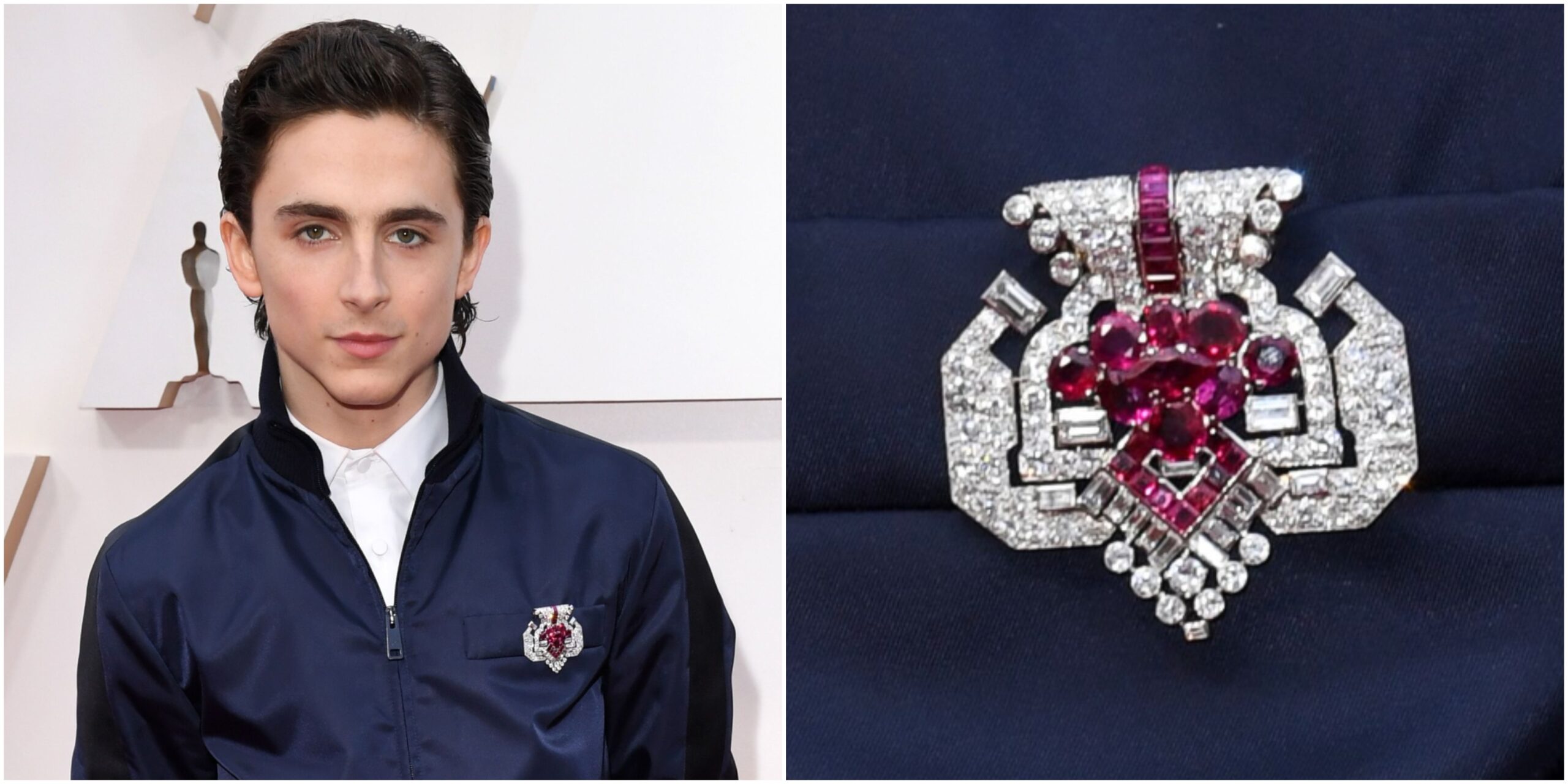 Even a former pro football player – Terry Crews, host of America's Got Talent – sports a brooch on every show.
Singer Rufus Wainwright is another big fan. 
As Wainwright, (the Canadian-American son of another Canadian music legend, Kate McGarrigle), recently told How To Spend It, the Financial Times' luxury and style magazine: "My style signifier is brooches. I've worn them for many years when they've been both in and out of fashion. I have a favorite brooch shop in London called Christopher St. James in Covent Garden, which sells great theatrical jewellery – I always go there when I visit the city." He's been rocking a brooch for years – sniffing to one writer, back in 2014, that if men wearing brooches was a trend: "Of course it is a trend. Everyone is copying me."